Investing in a New Generation of Farmers
When Hampshire County Council invited applications for the tenancy of Tynefield farm in Titchfield, Flavian Obiero and his partner Nikki Clarke knew it was an opportunity they couldn't pass up.
Flavian had the experience, having worked on farms for 13 years,
With a degree in animal management, he also had the knowledge.
And he had the passion – his love of animals and food has him brimming with ideas on how to turn a small farm into a series of successful businesses.
What he didn't have, was finance.
"You do the application and you can have all the knowledge and the passion, but it always boils down to money," says Flavian about the application process. "I'll do whatever it takes to make it work, but you still need that starting capital to get it going."
"So Flavian contacted us and we opened a case for New Gen," explains Tom Powell, Flavian's Relationship Manager at Oxbury Bank.
Oxbury's New Gen scheme is there to provide the next generation of farmers – who don't have any capital backing but do have drive and good ideas – with the funding they need to get started in the industry.
"From the business plan and the cash flow that Flavian had  already put together for the tenancy application, we were able to quickly get through the first couple of stages of the assessment and the bank could see the vision of what was going to happen at Tynefield Farm," added Tom.
"New Gen opens a line of communication with a Relationship Manager. As well as supporting people with the process, which they might never have been through before, we're also there to answer questions and to remind them of things they need to do."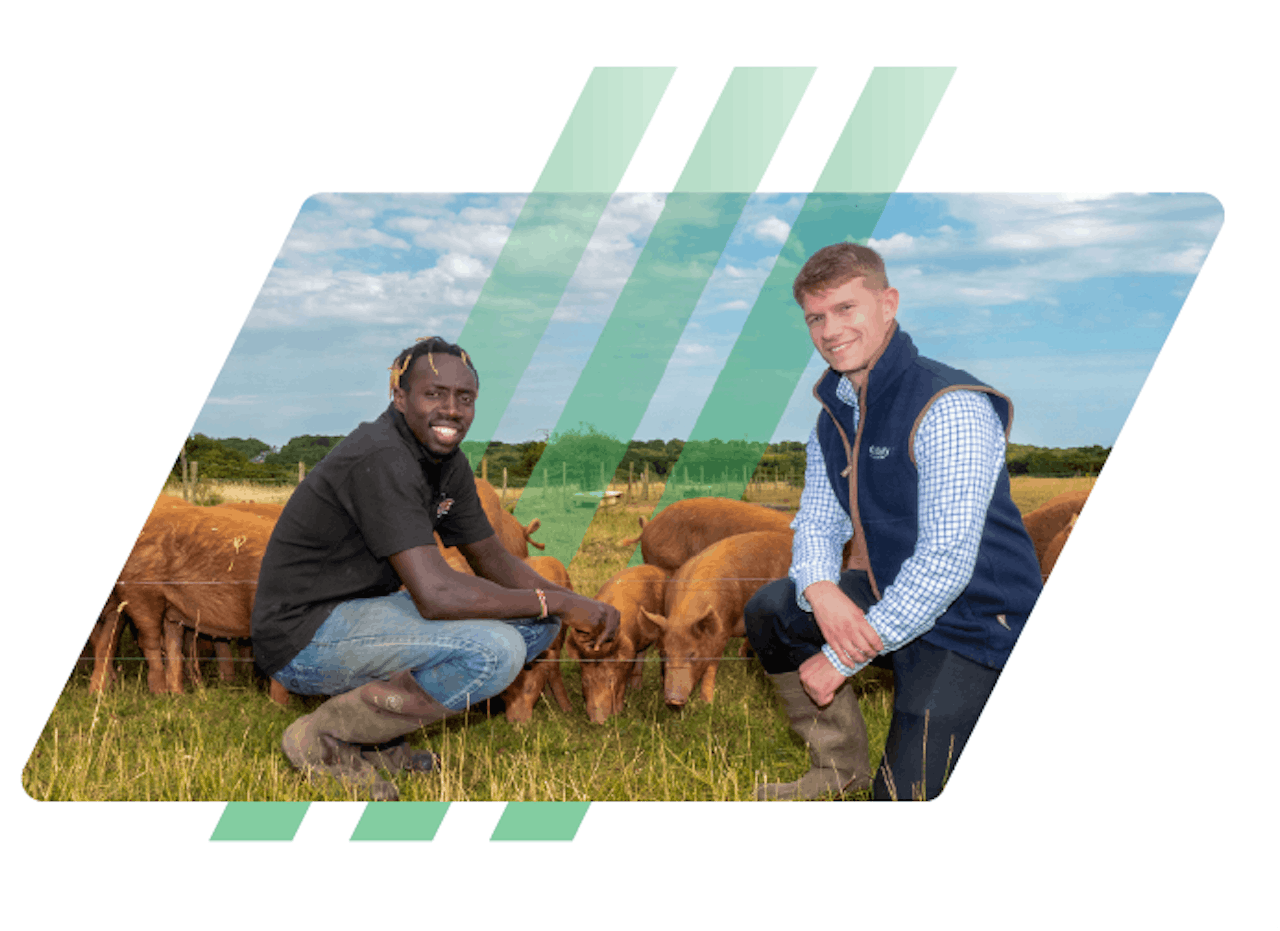 With the financial backing of Oxbury and a successful application with the council, Flavian and Nikki are now proud tenants of the 61-acre Tynefield Farm and are able to realise their dream of becoming farmers.
They decided to focus initially on Tamworth pigs, which was driven by a combination of a love for the animals – "I even love the way they smell, believe it or not!" – and hard business sense, understanding that they breed quickly so that he can get a quick return. But within three months, they had followed that up with sheep and then goats; chickens will be next and, following a conversation with a neighbouring farmer, Flavian is quite tempted to add some cattle.  
Flavian traces his passion for farming back to his childhood in Kenya. "From a young age, I've always had chickens, rabbits, dogs. Since I was 10, I've been able to take a chicken, pluck it, gut it, and get it ready for the table. I don't think that happens so much here," he says.
"It also seems like everyone in Kenya has some connection to the land. Whether that's keeping animals or using whatever spare land you have to grow some veg. I have a cousin who's an architect, but he also grows avocados and exports them to Europe."
Nikki doesn't have quite the experience that Flavian has – in fact, she was a vegetarian when she and Flavian first met.
"Like a lot of people, I didn't know a lot about farming," she said. "But when I went to live on the farm where Flavian was working at the time, which was at an agricultural college, I learned quite quickly about how much he cares about the animals, his passion and his values – not just in the way they are treated on the farm, but also how they are slaughtered.
"My concerns were always about animal welfare. When I could see how well Flavian treats his animals, I started to eat a bit of meat and now I'm a pig farmer!"
Nikki still has a full-time job as a travel agent but plays a full role on the farm and will be given responsibility for the next set of animals to be introduced to Tynefield – chickens.
Learning is fundamental to their farming life; from the practical element of keeping his animals secure – Flavian once had to lure escaped pigs away from a busy road by trailing animal feed back to the farm – to new skills that will open up new ventures such as charcuterie and butchery.
One quick new enterprise was a hog roast trailer where he can cook his own produce at local events. "I like food and I like looking after animals. Being able to talk about the whole process while producing food for people and seeing them enjoy eating is a definite plus for me," he says.
The goal is for the farm to become sustainable for both Flavian and Nikki to work there full time, while bringing up a family – Nikki is expecting their first child.
"Whatever I do, it has to work," stresses Flavian. "I don't want to silo myself in pigs, or sheep or beef. Whatever I do, so long as it's viable, it's in keeping with what our landlords want, it's environmentally and socially responsible, it's providing food for the community and I'm getting joy out of it – as long as it makes money, I'm in!"