Investment secures land for future generations
For 200 years the Taylor family have farmed land just outside the busy market town of Harleston in south Norfolk. This beautiful area of the Waveney Valley is surrounded by idyllic villages that run along the border of Norfolk and Suffolk.
Nestled beside a pretty church in one of the small villages are 450 acres that have been managed by six generations of the Taylors.
Once an active dairy farm, milk prices eventually made this side of the business unviable, and the family needed to explore new ways to live off the land.
In the search for profitable diversification projects, securing finance proved key to their plans. It also meant ending a long-held relationship with a high street bank and moving towards a new partnership with a financial institution that was eager to understand and invest in their future.
Oxbury recognise that farming and land management are a way of life. Not just businesses focused on profit; they are homes. A landscape sewn with decades of memories and traditions.
And it's the desire to keep those assets safe for generations to come that drives the family's ambition for new enterprises.
Three generations of the family need to be supported by the land, which draws limited income from a number of residential properties, an arable enterprise – managed by a contract farmer – and a small herd of North Devon cattle.
Diversification is nothing new to the Taylors – head of the family Julian learned valuable lessons from his late father Richard Taylor.
"My father started a chicken business here in the 1950s with broiler chickens, where there was a ready market for meat carcases from Americans on Air Force bases in East Anglia. As they pulled out, he needed to think of other outlets and he decided to go into broiler breeders," explained Julian.
Since the early 1980s, the Taylors have become specialists in designing and constructing buildings for broiler breeders. These buildings are then leased out to a third party on a long lease and the Taylors are now investing in renovating and expanding their poultry sheds.
Two new state of the art £2m poultry sheds, with a life-span of 50 years, promise to deliver security with an excellent annual return on their investment.
The Taylors have a dedicated Relationship Manager at Oxbury in George Lane – who is no stranger to farm life. George spends most weekends supporting his family farm in Lutterworth and appreciates the unique pressures and challenges that farmers face. Understanding the Taylor's plans for the poultry business and their passion for maintaining the land for future generations, made them a sound investment.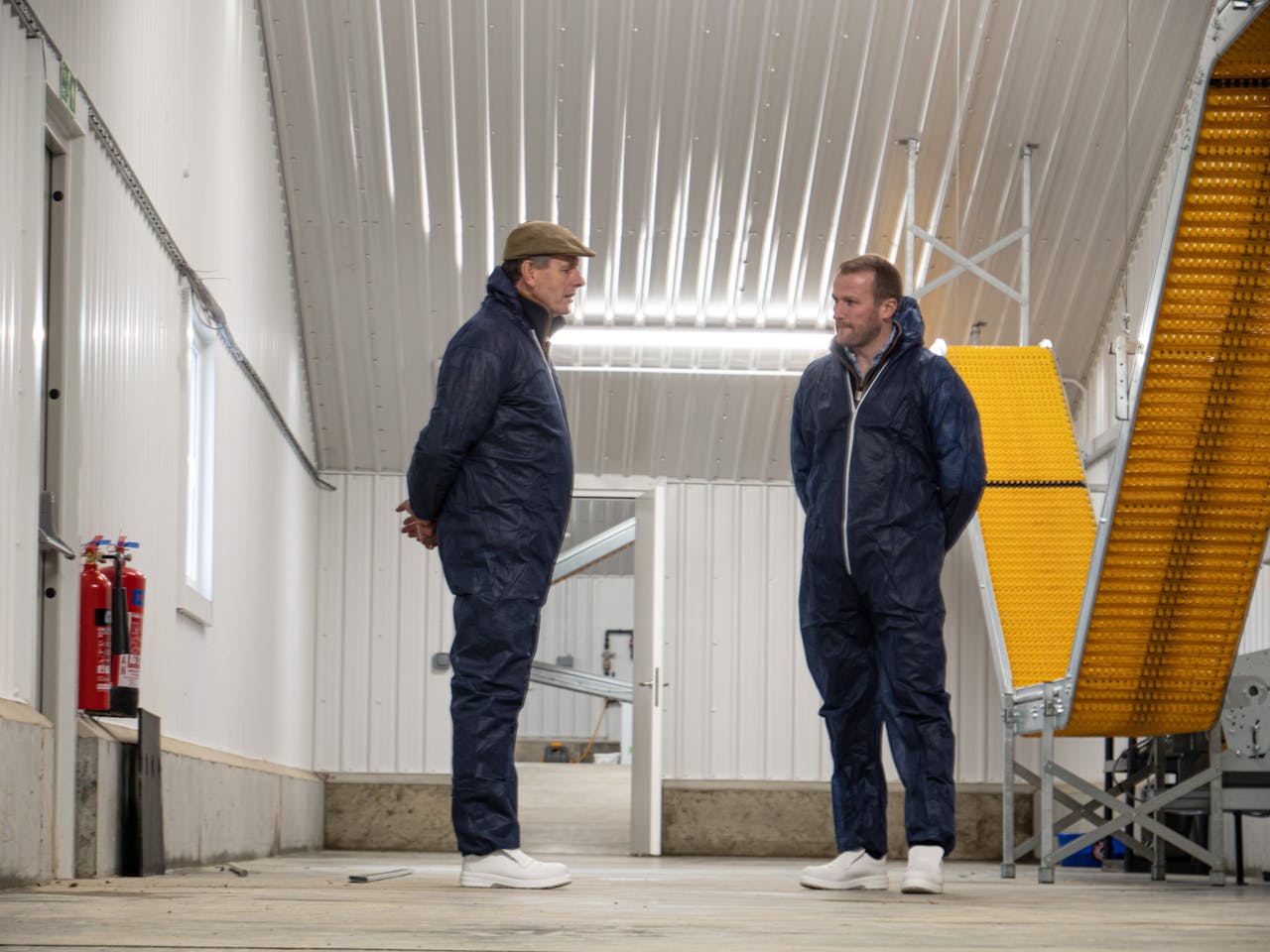 "It's unsubsidised and it's a guaranteed income for them on a regular basis on a long-term lease," George explained. "The poultry sheds are a core part of the business, but we also know that there's a long-term plan in place. The poultry sheds give them time to focus on the other areas of the business, as well as developing new ones."
A secure income from the poultry lease also allows the Taylors to devote more energy to the areas of the business they find particularly rewarding – such as their herd of North Devon cows, managed by Julian's son Dickon and his wife Emily.
"I certainly enjoy the cattle," said Julian. "In fact, I'm Dickon's unpaid helper in the mornings! But I'm more than happy to be because, having grown up with a dairy herd on the farm, I think it's lovely to have cows on the farm again. And because we've got 120 acres of grass, I would rather mow it with cows than sitting on a tractor!"
The abandoned and dilapidated dairy sheds that sat gloomily opposite the cattle sheds are now filled with hope of a new purpose. Julian feels confident that he will be able to make further investments with Oxbury's support to transform them into farm holiday lets to create another source of income. 
"I think our relationship with Oxbury has made our future plans more attainable," said Julian. "And, as the months and years go on, I hope that Oxbury will continue to have the confidence in us as well that we can deliver – because that's a crucial part of the partnership. With the bank we were with before, I felt we were losing part of the agricultural connection. With Oxbury, the knowledge base is much greater."
Much like the new calf that was born on the eve of the poultry sheds opening, spring is coming for the Taylor family. And it looks like it's going to be bright.