Oxbury Forest Saver
Save today for a greener tomorrow
Introducing Oxbury Forest Saver, where the interest on your savings funds the planting of native trees on British farms to mitigate your annual carbon footprint.
Oxbury Forest Saver
1 Year Personal Savings Account that uses your interest to plant trees to mitigate your annual carbon footprint
A £12,000 deposit effectively mitigates your annual carbon footprint
Supports biodiversity enhancement, British agriculture's low-carbon transition and the rural economy
Increase your savings amount to also mitigate your family's carbon footprint
A smaller saving value can partially address your carbon footprint. £1,000 typically mitigates one month
Use the WWF Footprint Calculator to find out your carbon footprint based on your lifestyle.
View the planted forests and Oxbury's partnership with Forest Carbon
Receive a certificate notifying you of the trees planted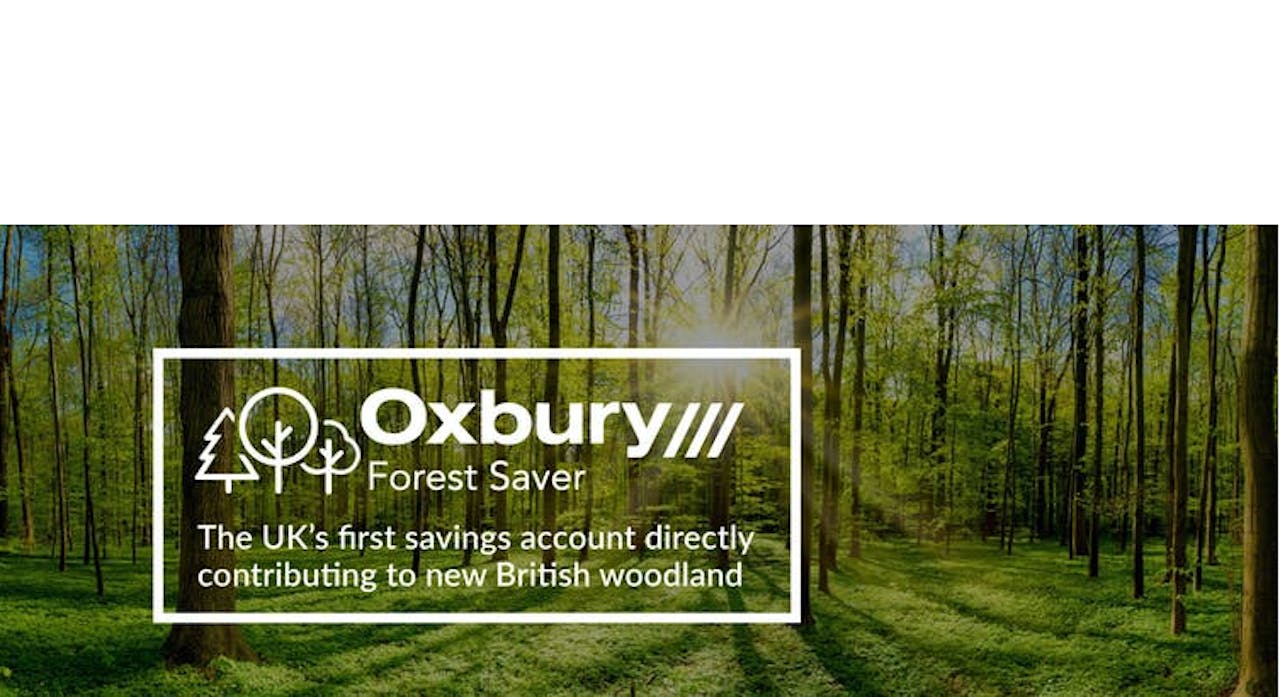 Usually, a 1-year bond account accrues interest over the 12-month period; however, with Oxbury Forest Saver the interest is transferred into planting trees.
By working with Forest Carbon, we are facilitating the planting of trees in dedicated Oxbury Forests. The first of these is situated on Ruddenleys Farm in the Scottish Borders.
The planting of these trees mitigates your own carbon footprint for the year, with a £12,000 savings deposit mitigating the average person's annual carbon footprint. Throughout the entirety of their lifetime the trees will continue to grow, mitigating your carbon footprint for the length of your bond account. The site is managed in full compliance with the world-leading standard adopted by the UK Government: The Woodland Carbon Code.
Different savings values will influence the carbon-capture of different amounts . Based on the average British person's yearly carbon emissions:
£12,000 will fund the necessary planting to remove an average individual's annual carbon footprint
£1,000 typically mitigates one month of a person's carbon emissions. (So a smaller saving value can still partially address your carbon footprint)
£48,000 will mitigate an average UK 4 person household annually
You can use the WWF Footprint Calculator to more accurately find out your carbon footprint based on your lifestyle.
Planting new UK woodland not only mitigates your personal carbon footprint but also provides other benefits:
Improves UK air quality. Woodlands purify the air by absorbing gases such as sulphur and ozone.
Provides farmers and foresters with additional work and income to support the local economy
Increases biodiversity, protecting a whole host of animal and plant life
Stabilises microclimate, purifies water and improves crop yields
From founding, we committed to offsetting all carbon emissions from the operation of Oxbury Bank and mitigating the carbon footprints of our staff. Now we want to extend this opportunity to everyone via a savings account that also lets everyone contribute to helping the planet.
How your savings are protected
Your eligible deposits with Oxbury Bank are protected up to a total of £85,000 by the Financial Services Compensation Scheme (FSCS), the UK's deposit guarantee scheme. Any deposits you hold above the limit are unlikely to be covered. For further information visit www.fscs.org.uk or view the leaflet below.